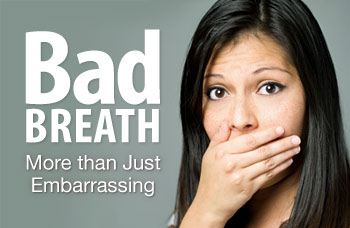 Bad breath is a major problem faced by many people. Its embarrassing and impacts many areas of your life, including relationships, friendships and career. So, understanding the causes and finding remedies is important and would leave you free to enjoy life fully again. The natural remedies to fight bad breath that most people first think of are improving their brushing and flossing routine. This is a good start, however, a well balanced diet can also play a big role in eliminating your problems of bad breath. A well balanced diet allows your digestive system to work efficiently and this can greatly reduce the amount of bacteria in your body that are responsible for bad mouth odour.
Also, an adequate amount of Acidophilus in your diet is very important. Studies show that an imbalance of bacteria in your intestines can contribute to your bad breath. Yogurts which are rich in live cultures can help in increasing the amount of acidophilus in your body, helping to fight your bad breath. Bad breath can also be caused by gums that are in poor health. Your gums can be protected from damage by Vitamin C, which also helps to speed up the healing process. Good sources of Vitamin C include cabbage, red peppers, strawberries, oranges, and kiwi fruit. A further element to consider is replacing some or most of the animal protein in your diet. Replacing this with high fiber foods such as vegetables, fruits, lentils and beans could be a good remedy. Vegetables and fruits can help to cleanse your breath as they are high in fiber and contain large amounts of enzymes. I encourage you during your day to munch on raw vegetables and fruit such as apples, pears, carrots, and parsley sprigs. Parsley is a natural breath freshener because it contains chlorophyll. Chlorophyll is a chemical that keeps plants green and is considered to be a natural breath freshener. So, a quick and easy option, especially if you've just eaten garlic.
Your daily intake of water is also important to how fresh your breath is. You need to drink at least eight glasses of water each day so that your mouth is always moist. By doing this, you'll also be flushing out the germs and bacteria that can hang around in your mouth from particles of food. Make sure you're visiting your dentist regularly to be sure that gum disease or tooth decay isn't an underlying factor of your bad breath. Keep in mind that Vitamin C is good for preventing gum disease.
One last thing that you can do is eat fiber rich foods to fight constipation. Studies show that regular bowel movements will remove those toxins from your body that can cause bad breath. I'm sure the thought of all that old stuff hanging around your body isn't pleasant to you. When you eat large amounts of meat you absorb a lot of bacteria into your bloodstream which then passes into your lungs and is then exhaled as bad breath. High sources of fiber include brown rice, peas, figs, dried bean, wheat products, and prunes.
Discovering a permanent solution to your bad breath means you need to eat a balanced diet to make sure that your body is in good condition and working as it best. So, lets get started and fight your bad breath now. From what you've read, now decide, what specific actions are you now going to take?
If you want to know more about how to cure bad breath, then click over to Sally's site http://www.curebadbreath-halitosis.com You'll find more information about treatments for bad breath
Source:
Articlealley
, +Wendy Hearn